Commissioned Art of Malcolm Zfnoc!
Warning: This post may contain spoilers for The Corruption of Dark and beyond!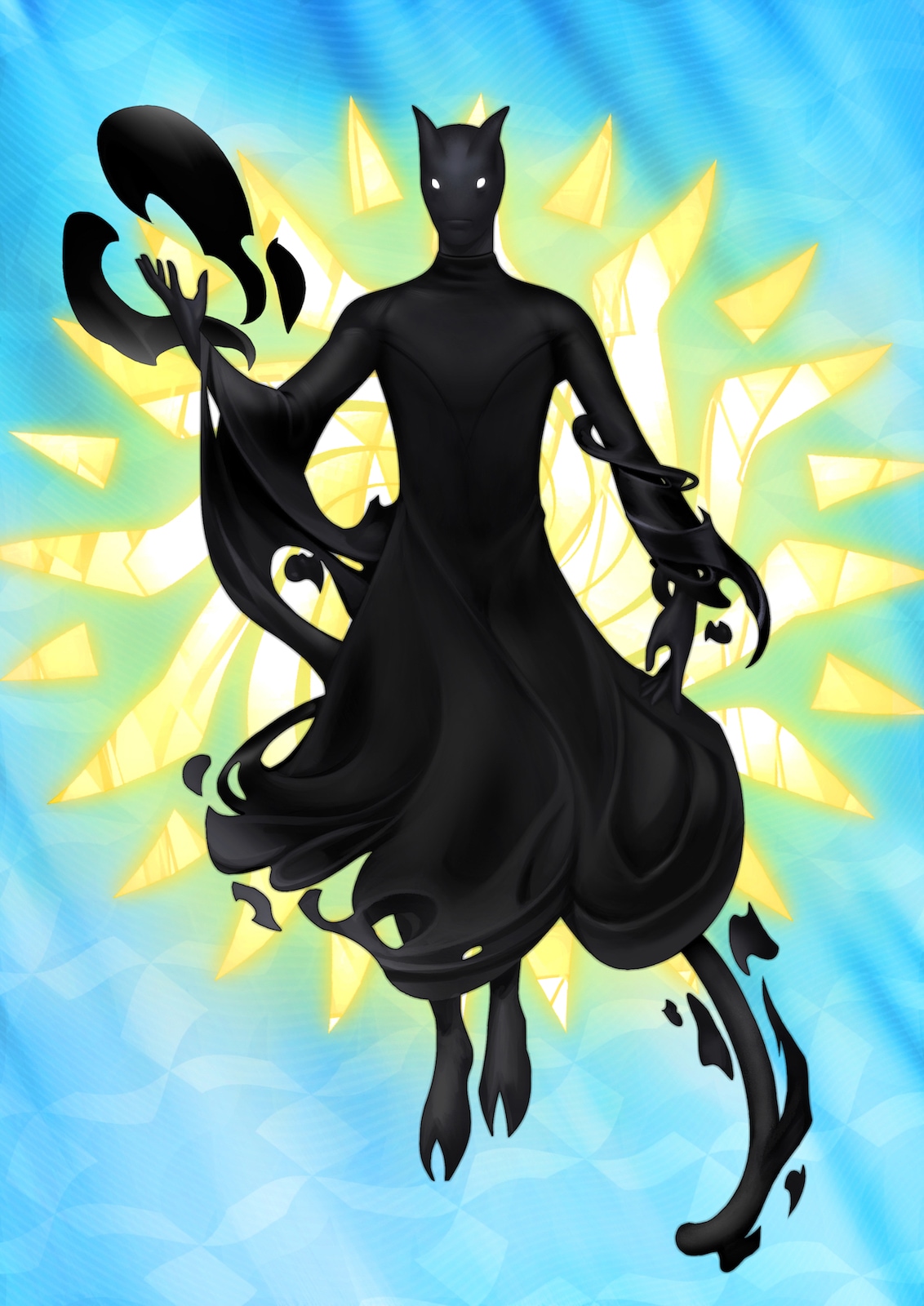 ---
Behold, Malcolm Zfnoc! He was the reason I said Paewar Zfnoc was a 'test' of dark effects and Zfnoc looks. Because Malcolm Zfnoc is all that, effectively. He's basically all black or close to it. It was definitely going to be a challenge to render into art form but, of course, Erika Hollice totally knocked it out of the park.
Now, to be clear, this art of Malcolm Zfnoc is based more on his image and ethos in Amethyst Shards, which I am still in the process of writing/editing. So I can't explain everything yet, but when you all finally read it: just think of this art of him and that dazzling background.
That glorious background: the idea of its design, in a sort of basic sense, came to me randomly after I initiated the commission. Before then, I was unsure of what the background should be. But then it hit me. I drew up a crude rendition of the design I had in mind, sent it to Erika, and it just clicked.
I also sent sketches of Malcolm Zfnoc, one I had had drawn previously and one recently for this and some comments on how he ought to look and be presented.
Poses
And Erika provided these four poses to start:
Each one of them was so interesting. #2 was more aligned with the concept I had envisioned, but #4 was very compelling in different ways. I went with #2 since it felt like…well, what this needed to be. The effects and outfit already looked so cool.
Preview
The pose was always going to be easy compared to the color/texturing of him. Since Malcolm Zfnoc was effectively all black…well, that was going to be tricky to visualize. But it was done!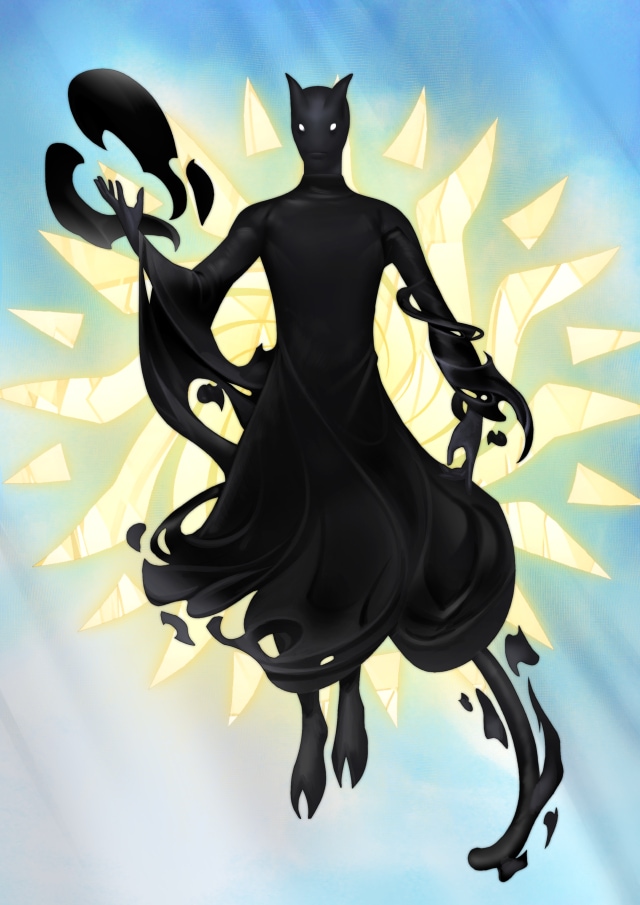 The first preview of it was totally on point. The black tone, the robe of dark, the puffs of dark…the background! The background was brilliant in color. His eyes were amazing too.
However, I had a few edits I wanted made:
His left arm needed to be more solid (though, I loved that effect).
The background color needed to be more intense. I played with it myself and it looked better more orange/blue.
The neck of his outfit…I wanted it to sit as a curve rather than the straight line it was.
Erika took those comments, made the adjustments, and that was the final version!
Final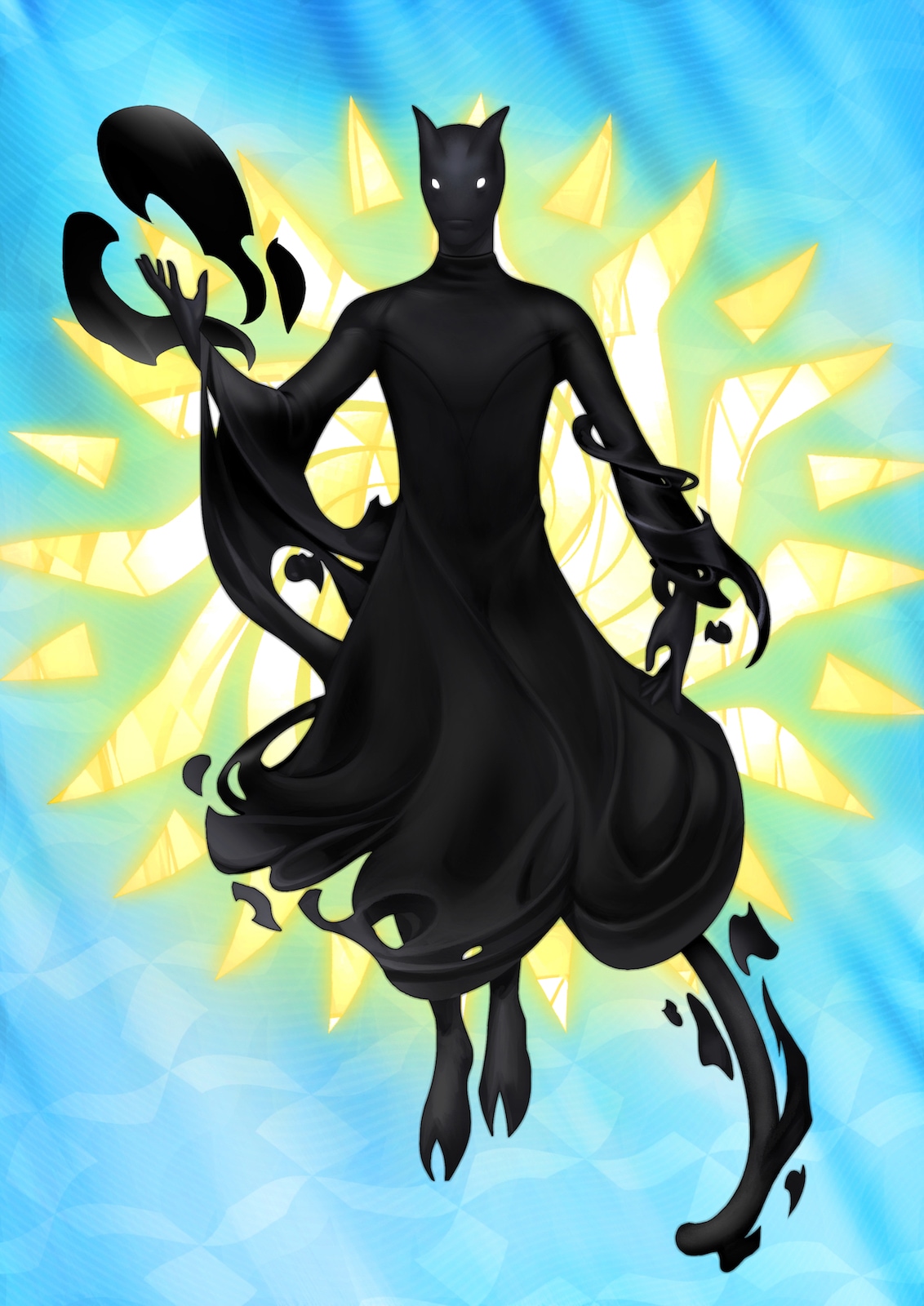 And so Malcolm Zfnoc is here in glorious form. As I said, the meaning and significance of this I can't share yet, but it will become clear in Amethyst Shards. This piece is brilliant and it inspires me to finish Amethyst Shards faster. I have the amazing background as one of my phone wallpapers as a constant reminder to keep pushing forward. I want to share what this means so its true impact can be felt. It is just…divine and lovely.
Major thanks and shoutouts to Erika for bringing Malcolm Zfnoc to artistic life. His concept was so tricky to imagine and she did more than a fantastic job bringing him to being. It's stunning work all around!
---
---
Related/Recent Posts