Binding My Own Book (Of Fractured Edges)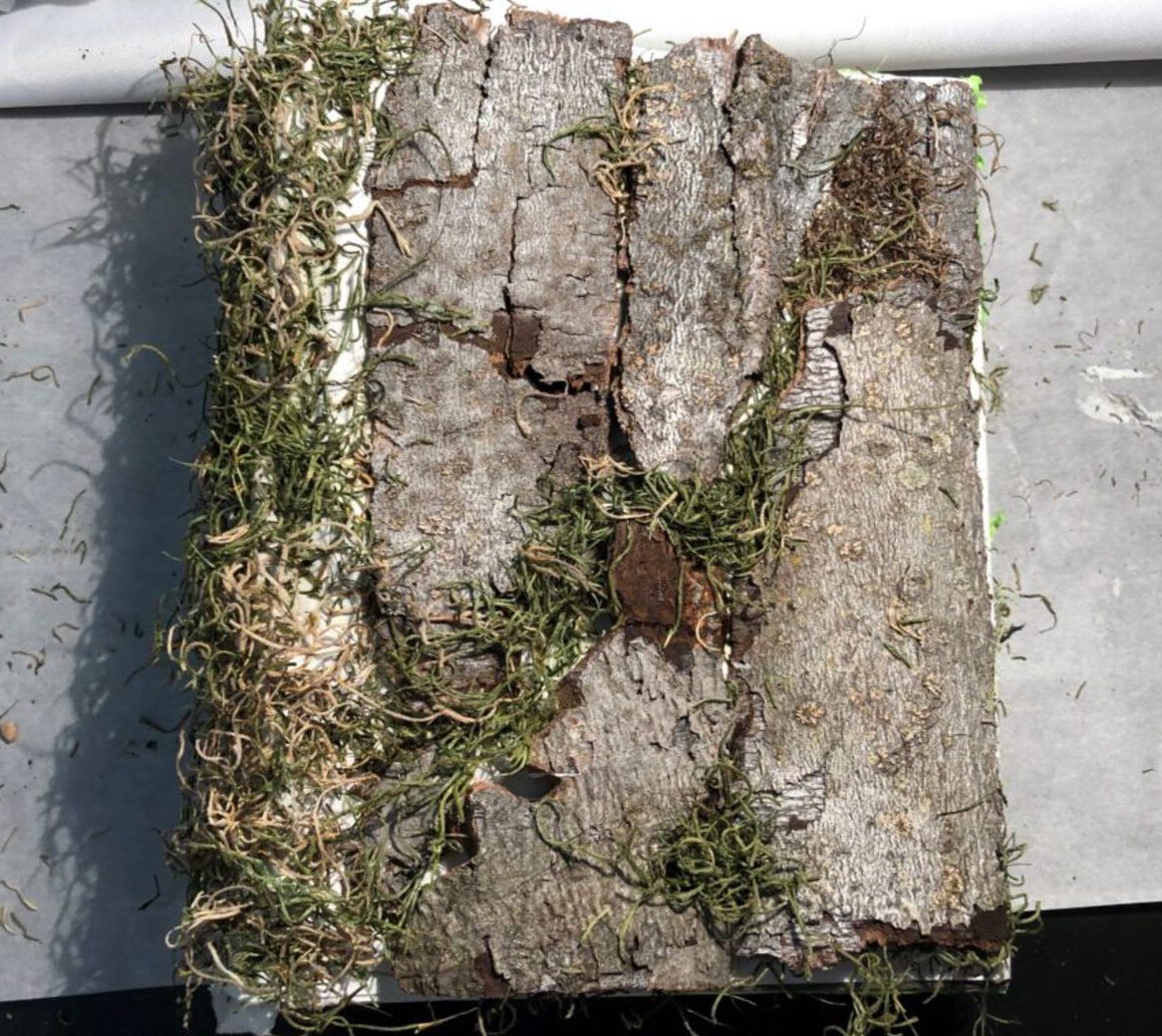 ---
Of Fractured Edges...the last of the first four books. The finale. The start of more. Blah, blah, blah, this is about the physical copy. Each of the previous three I've made custom hand-bound copies for, so Of Fractured Edges was next.
OFE's artwork came from a photo I took of tree bark, complete with moss and everything. Then I ran the image through a bunch of color filters to give it that intense black/green hue.
All that makes the cover of a hand-bound, artistic copy of the book, with three dimensionality and that sort of 'real aspect', obvious in how to do it. It's not like I'm making an analogy for water, fire, or wind. It's wood. And wood is tangible and exists. The idea of what to do is clear, but the execution...difficult. Wood is a tricky substance to use in projects like this. But I was going to use it.
And I did. The wood I used for Of Fractured Edge's cover was from a tree in our front yard we had to cut down awhile back. The moss that filled in some of the white came from a mixed moss bag from Hobby Lobby.
Together, with tons of glue and dedication, they create the book cover for this copy of Of Fractured Edges.
As for getting there, you know the drill.
The usual stuff:
Drilling, threading packets, threading it all together, glueing the spine...basic steps for all of my hand-bound books.
The artsy part:
I took the cover shell and glued the bark to it first. I purchased industrial glue for this job. After the glue for the wood dried and it was determined to be suitably attached, I added moss to fill in the cracks. After letting that dry for a good deal, and trimming it down with scissors, I glued the flyleaf to the book and cover, thus making the actual book. With some dry time, it was done!
Cost Breakdown
Materials
| Item | Cost |
| --- | --- |
| Southworth Linen Paper | ~25 |
| Book Glue | Free (already had) |
| Linen Thread | Free (already had) |
| Linen Cloth for Spine | Free (already had) |
| Board | ~2 |
| White matte cloth | Free (already had) |
| Fabric for flyleaf | ~15 |
| Tacky Glue | ~5 |
| Industrial Glue | ~5 |
| Wood | Free (found) |
| Moss | ~12 |
Labor
| Action | Cost |
| --- | --- |
| Printing Book | Free (New double sided printer!) |
| Drilling Holes in Book | Free (Family member) |
Total: ~$65 (rounding up)
Conclusion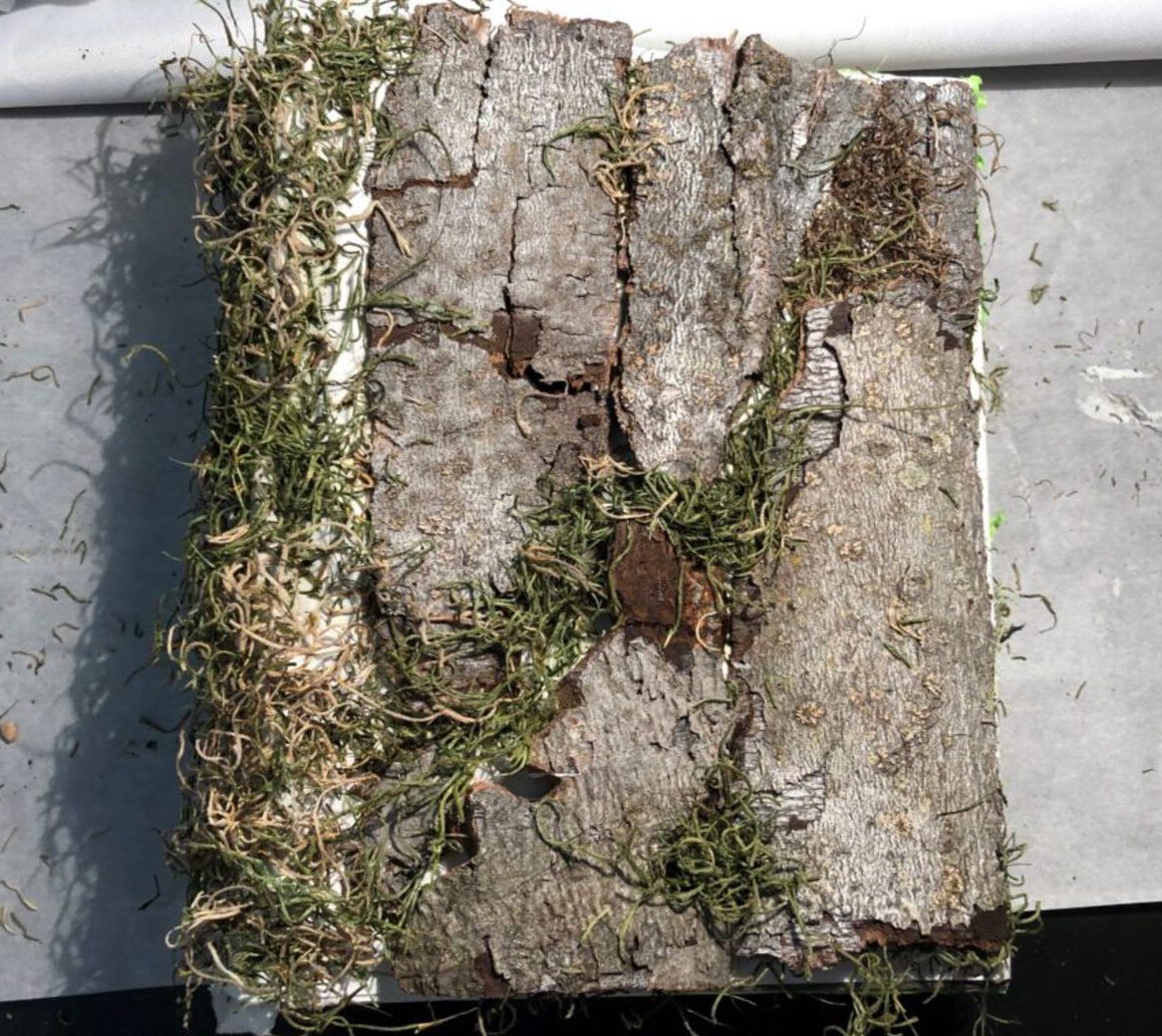 It's absolutely bonkers what I did with this one, when I think about it. I always knew I was going to do wood for OFE, when I started this process with HTSW, but actually doing it... Whoosh. Super messy. And nerve wracking. I had no idea if the glue was going to hold for the wood and it did! The moss sheds when I move it around, so it's probably the most delicate in that regard, but aesthetically...it did what I needed it to do.
I'm amazed and happy I pulled it off. Touch and go with glue, but it's intact and it's Of Fractured Edges. The book is about cracks. So the cover is just the same.
Not a bad project to end the year with!
---
---
Related/Recent Posts